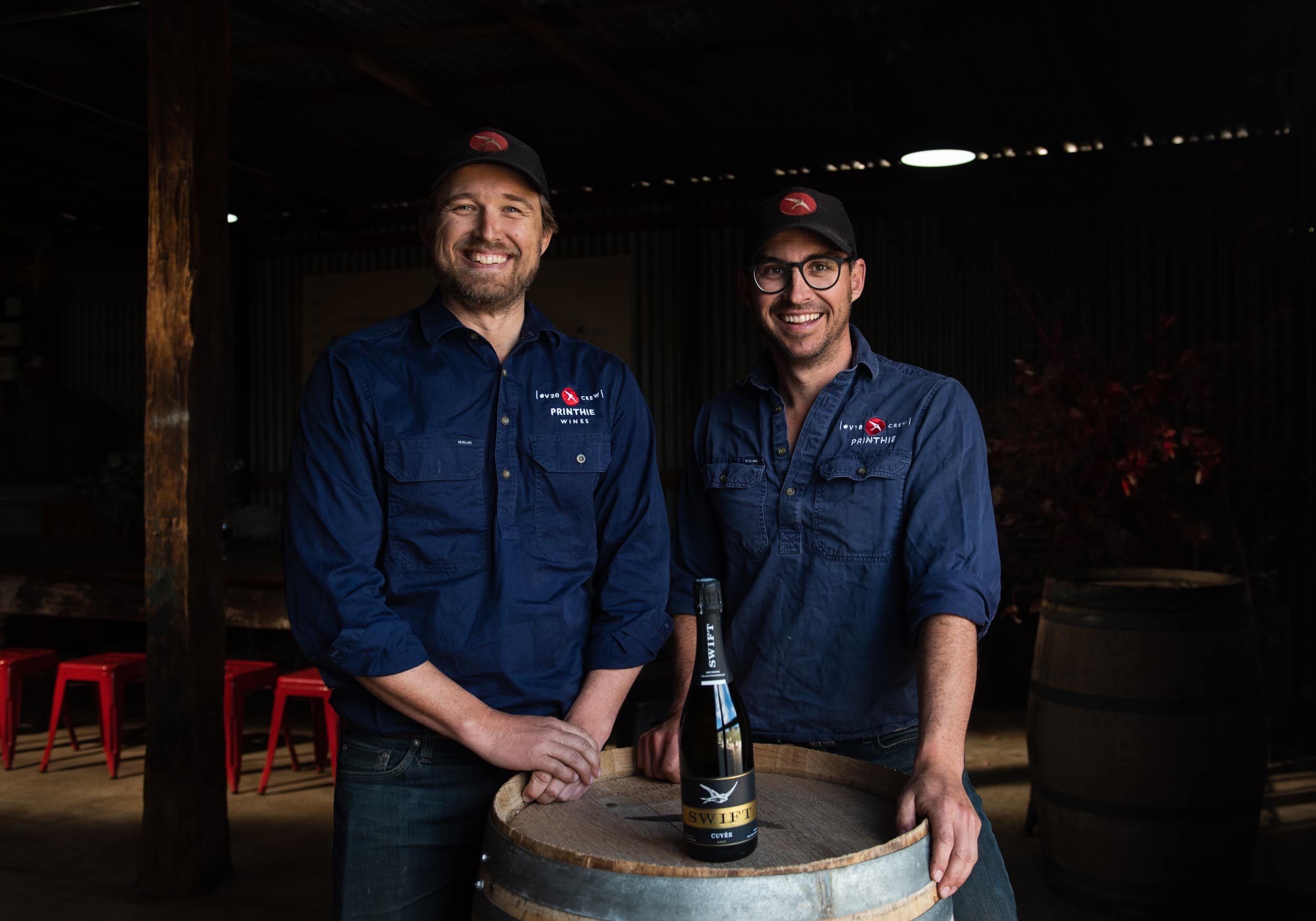 25 Aug

Swift Cuvée 'Best of the Best' Category – 2021 Halliday Wine Companion

In August every year, wineries across the country await the release of the Halliday Wine Companion and we were especially excited to receive news that the Swift Cuvée has been placed in the 'Best of the Best' sparkling wine category with a score of 96 points. It wasn't only our premium sparkling range that was recognised in the wine awards, the Super Duper 2018 Chardonnay was also awarded 96 pts and is the highest scoring white wine in the Orange region.

The annual Halliday Wine Companion is recognised as the benchmark for Australian wine, with a prestigious wine panel identifying the 'Best of the Best' from over 9000 entries.

We're very happy to see that our 10 years of investment and patience with our Swift sparkling range is paying off. To become one of Australia's best sparkling producers is a real testament to the commitment and skill of our team.

The accolades don't stop there though with Swift Sparkling the highest awarded sparkling range nationwide with all six sparklings achieving 92 pts and above. In total, Printhie had 14 wines rated 90pts and above and had the highest scoring wines in the region. We also retained our 5-star winery rating for the 11th year.

A full summary of the wine scores and descriptions by Ned Goodwin from the 2021 Halliday Wine Companion are listed below:

Swift Cuveé #7 – 'Best of the Best' category – 96 PTS

Listed in the 'Best of  the Best' Sparkling category nationwide. 2013 base; the third and final disgorgement. 72 months on lees. Chardonnay 60%, pinot 40%. This is superlative. A juicy bead, towing flavours of brioche, cinnamon spice, tarte tatin and quince long. Far! The acidity juicy, melded to the core of leesy nourishment. An impeccable balance between freshness and ampleur. A stunning domestic fizz.

Super Duper 2018 Chardonnay – 96 PTS

Small batch winemaking manifest as a medium-bodied wine of scintillating intensity, with few obvious fruit references. For the better. Sourced from two sites at 900 and 1000m respectfully. A lees-inflected core of pungent mineral energy, toasted hazelnut, flint, oatmeal, cashew and nougat scents define the style. Wild yeast truffle, too. The oak, clearly high quality, embedded into the fray. The finish infinitesimally long. A superlative chardonnay with all bells and whistles, seldom seen in these parts.

This is exceptional fizz. The estate has it together by now, by the taste of this. 73% chardonnay, the remainder, pinot. Leesy truffled scents to wild strawberry, loganberry and sour cherry. Long, detailed, taut and sapid. Refined, with the 5g/L dosage nestled with aplomb.

Swift 2016 Blanc de Noirs – 95 PTS

Straight pinot noir, barrel fermented and minimally messed with, prizing the breadth of oak and cloudy juice as textural building blocks. Broad and buffered, with a red berry tang and a swirl of tangy acid to mineral punch, driving the dervish long. Fine. Powerful. Palate-staining of intensity.

The first disgorgement of '12. 72 months on lees. 58% chardonnay, the rest pinot; 6g/L dosage. An easy-going, broader expression. Talc, musk stick, pink grapefruit and red plum. This is a floozy. Fresh enough, hanging everything out to ride across an early pleasure curve. Hedonistic, sure. But absolutely delicious.

Topography 2019 Pinot Gris – 93 PTS

Listed as 'Special Value'. A mottled onion skin hue, indicating a hands-off approach in the winery to a variety that is too often filtered to within an inch of its life. This, sourced from a vineyard at 620m, is mid-weighted and vibrant across an effusive chord of tangerine, baked apple, orange blossom, ume and loganberry. The wine broadens with air, staining the cheeks with a sappy intensity. A lovely drink.

Topography 2019 Riesling – 93 PTS

Listed as 'Special Value'. Signifying regional, single vineyard wines, the fruit for the Topography series is sourced from estate fruit or trusted growers. This, from a site circa 925m. An excellent riesling by virtue of its cool aura and relaxed acidity, brisk enough to confer energy and poise, while juicy and palpably natural, putting the drinker at ease. Nothing brittle; nothing hard. Just a stream of quince, lemon drop, candied grapefruit rind, fennel and spa salts, flowing long. An eye-opener. More European of guise in the best sense.

Swift Rosé #4 – 93 PTS

Based on the '12 vintage, this is the forth disgorgement. 86 months on lees. Chardonnay 58%, noir 42% and a gentle 5.5g/L of dosage. Careening wild strawberry, kirsch and sour cherry scents. The fill is broad, but the finish a little edgy. A lovely wine with plenty more in store.

Super Duper 2018 Syrah – 92 PTS

A conflation of hand and machine harvested fruit; ditto, the ambient to inoculated yeast quotient at fermentation. Up to 28 days on skins, with 10 months of maturation in barrel before blending and a further 6 months maturation in older hogsheads. One's first impression is that of oaky cedar, vanillins and mocha to bitter chocolate. Not a patch on the chardonnay at the same tier. Lilac, nori and blueberry notes are lurking behind the oaky carapace which, with time, will relent. Admirable concentration, yet tough going.

Topography 2018 Shiraz – 92 PTS

From a single vineyard elevated at 620m, all estate owned. A smidgeon of whole bunch was thrown into the fermentation following hand and machine harvesting. Similarly, a meld of ambient and inoculated ferments have added detail and a different thread to the spool, with some batches seeing a respectable 28 days on skins. Blood plum, boysenberry, iodine, sarsaparilla, violet and a smoky reductive riffs meld into a nourishing whole. The finish is long and gently peppery. Nothing heavy or over-extracted, but rather pulpy and juicy. A good drink.

Swift 2010 Blanc de Blancs – 92 PTS

The second disgorgement of the inaugural '10 vintage. Straight chardonnay. A whopping 96 months on lees, with another disgorgement to follow. The equivalent of an extra-brut dosage, at least in French legal terms. This is good, if not burly. The conflation of cheese cloth-leesy richness, mineral-clad acidity and stone to citrus fruit scents, never over-loads. The frame of altitudinal confidence, conferring authority while corralling the billowing oomph. This will age into a rich, galumphing wine with plenty of charm.

Mountain Range 2019 Pinot Gris – 91 PTS

Listed as 'Special Value'. A very good gris, an exciting category of Australian wine of the moment. Medium-bodied, while streaming orange blossom, baked apple, cinnamon spice and pear gelato along a skein of gentle phenolics and moderate acidity. Flavoursome and winning.

Snow Line 2019 Three Pinots Rose – 90 PTS

A single vineyard rose hewn of noir (71%), meunier (16%) and gris (13%), fermented in partly large wood for texture; tank to imbue freshness. Tangerine, pomegranate, sour cherry to raspberry, musk and strawberry scents. The freshness is thirst-slaking, towing the flavours long without being hard or brittle. A delicious rose.

Topography 2019 Pinot Meunier – 90 PTS

Sourced at 935m and considered the only example of this varietal wine in the region. 10% whole-bunch incorporated into an open-top ferment, before transfer to a 3800l foudre for maturation. The result is a morass of ripe red berry fruits, morello cherry and root spice, offering a whiff of savouriness behind the sweet extract. Sappy. Mid-weighted and gentle. Best drunk on the cooler side.